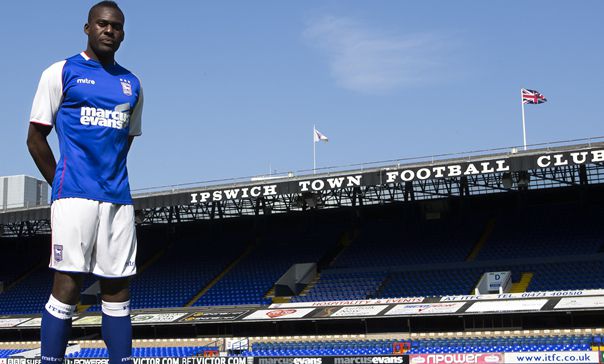 Damn it!
Such was an accurate paraphrased reaction to my Dad's recent e-mail outlining the "new" home uniform of Ipswich Town, my chosen English soccer team. For those dazzled by Man U or Liverpool, or Man City, Ipswich has been entrenched in mediocrity one step below the Premiership in the Championship division. Yet their biggest splash so far has been that of aesthetics. Now the new uniform is not bad, in fact it is sharp, but it is only one or two years removed from the last home uniform, which I luckily got as a birthday gift last year. Now if I want the new uniform, I'm expected to shell out upwards of 45 pounds ($90) for the latest uniform. Sad thing is that myself, along with many other ardent fans will fall hook, line and sinker for this branding strategy and Portman Road will be adorned with the blue uniform with the white piping.
The notion of re branding is not a new one. Heck all companies and teams do it. Even I as a freelance broadcaster have done it. No, this does not mean a radical new look, complete with plastic surgery that would make Bruce Jenner nod with approval. More so it means freshening up my on-air demo, trying new sports and roles, and marketing myself as a personal brand. I even changed up the dynamic of my on-line demo: CHEAP PLUG ALERT. You can view it here:
Some are very careful when they do it, not wanting to mess with success. I cannot imagine the day that Nike decides that the swoosh has had its day in the sun. Some though mess it up big time. At this point, I cannot imagine what marketing genius came up with the Ottawa RedBlacks, the rumoured name for the latest Ottawa CFL reincarnation. Not sure if it was leaked as a joke, but the reviews are in and they are not kind. Mostly companies and teams play off the notion that a fan cannot be without the latest big thing, be it a great new innovation or product all a team uniform.
Off the top of my head the Dallas Stars and the Carolina Hurricanes have already rolled out new uniforms for the upcoming season. The Raptors with new CEO Tim Liewecke in charge have already talked about building a national brand, and there is no better time than to get rid of the ridiculous and childish dinosaur logo and replace with something a little more sleek or traditional like the Huskies. Still it is hard to keep up with all the changes, and while the hard core fan can ill-afford to be caught in outdated garb, those same fans can be priced out of the market. I'm not sure on what the statute of limitations is on what is "retro" and what is not, but I'm pretty sure my Wendel Clark and Felix Potvin Leafs jerseys are beyond retro, and just old.
Television networks also get in on the re branding game. Rogers, with their recent acquisition of The Score, will re brand as Sportsnet360 as of July 1st and tweak their programming, likely maintaining some of the spirit of the irreverent Score but adding the Rogers personal touch, and more importantly resources. It is clever business in the world of media convergence and Rogers is already one of the major players in the sports media game. Unlike the notion of the cost of uniforms the benefit to the consumer is the fact that this financially negligible. Sports media and broadcasting is huge business and one of the main reasons are the advertising benefits. It has been reported that live sports are the ones that not PVR'd as often, meaning that the live consumption of the event means less fast forwarding through commercials, something that advertisers obviously like.
Everyone can rebrand themselves, be it person, team, or network. Be careful when you buy that uniform for your favourite team though. By the time you get home they may have rolled out a new logo.