Well, what a lousy way to close out summer. Back to work I went, and the calamities just kept piling up. First of all it was excessively hot in the school that I work at. Nothing like a place with no air conditioning and a temp/humidity in the high 80's to kick things off. I think I sweated off about 10 lbs yesterday, and that is not the weight loss plan I would like to embrace!s Then I inadvertently spilt chocolate milk on my wife's Ipad, daughters DVD player and a couple of other electronics. After school, I got a ticket for the gentlest of failure to yield. Guess I should only blame myself as it was the first day of school! Today was a new day right? Right? Nope, as I woke up today to discover our beta fish nose first at the bottom of his aquarium. A short burial ceremony followed, and all donations can be made out to me. I will make sure that I forward them to the Beta Fish Hospice.
OK, now that is out of the way, lets get onto some good news that does not involved dead fish, the heat or brushes with the law!
As a Hamiltonian and a freelance broadcaster, I was really excited to see Hamilton get an all sports radio station from the TSN family. 1150 TSN in Hamilton took the old CKOC frequency and had been doing some sports talk and broadcasting all the Hamilton TigerCat games. On Labour Day 10:00am, the switch was flipped and all sports talk had its debut live from Tim Horton's Field as Marshall Ferguson, Jim Tatti and Steve Milton became the first official voices on the station, Stewart Johnson , President of TSN was the first guest. They took it until 1:00 when the Labour Day Classic turned into a Labour Day Massacre as Andy McNamara, Marshall and Coach Sal formed the commentary team for the TigerCats. After the game it was the post game from Marshall and Matt Cauz. As it stands right now, there will be a mixture of imported programming and local talk. After Mike and Mike and Dan Patrick U.S syndicated program, Jim Tatti does TiCat Lunch for 2 hours. Leafs lunch gets replayed for two hours and then Marsh and Milton do the drive home show from 4:00-7:00pm.
You may have noticed that one name is prominent in this. Marshall Ferguson is a 23 year old broadcaster beyond his years. He has a profile in the city having been the QB for the McMaster Marauders, last year taking them to the Vanier Cup where they lost in heartbreaking fashion. As I guy on the periphery of media, I can tell you that Marshall is a very fortunate individual to be in such a high profile position at such a young age. He is truly an example of right place, right time. That said, you cannot be in this position without having the talent or skillz as the kids would say! He's quite good, and while there is a bit of a learning curve, he's going to be a star in this business. Pairing him with Steve Milton is a good piece of business as well. Steve also has a great profile having written sports in the Hammer for many a good year. Plus, he's got a magnificent grey flow that deserves TV time too!
And hey, cheap plug, should they choose to expand the programming, wink, wink, nudge, nudge. It is said that I've got hair for TV but a face made for radio....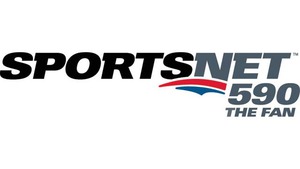 Also, on the radio side of things, I am happy for another old friend of mine Dave Cadeau who was named the Program Director of the Sportsnet Radio The Fan 590. You want to see a guy who has paid his dues? Dave is your man. Check this resume. He's been floor director at LEAFS TV, did voice overs at The Score, hosted and did updates on the Fan590, produced both Mike Hogan and Chuck Swirsky at The Fan, Produced and booked at TSN on Off The Record, and returned to the Fan as Assistant PD. Now that's experiencing any, and everything in sports media. One of Dave's on-air starts was when we covered the Newmarket Hurricanes for three years, doing live TV broadcasts once a week. Dave was a work in progress when he was the play by play guy and I was the colour guy, but we had a tremendous amount of fun and put together a solid broadcast. We had lots of laughs so I feel compelled to share a couple of stories.. One time we were in the middle of broadcasting a game around Christmas Time and the camera spanned to a young man dancing and gesturing wildly wearing a Team Canada shirt. He was an odd fellow with a set of teeth only a mother could love. I commented that the fan was ready for the World Junior Tournament, while Dave blurted out that it also looked he was ready for the dentist. How do you respond when the play by play guy chirps a fan? I chose silence, or maybe the cough button because I was laughing! Dave also came up with the idea that it would project a great on-air image if we wore leather jackets ties and gloves on -air. It was also damn cold at most of the arenas we were at so it made good practical sense! The thing is that Dave had this awesome sleek leather/pleather gloves while I had this wooly gloves/mitts, which did not look nearly as cool with leather jackets. So, if you have any of those old broadcasts and are wondering why Dave and I are dressed up like Fonzie on his first day as a high school teacher on Happy Days, now you know.
Congratulations Dave! I know you will do a great job over at The Fan, even though a ton of online commenters want to toss the morning show overboard, and then change up the rest of the day too! Everyone is a legendary Program Director in their own mind!
Dave's ascension cements him in
The Clark Hall of Fame
, reserved for people who either started with me, or worked with me, or I met before they went high profile and have gone onto far better things than me. Check this list:
1. Arash Madani : I met Arash at the 1998 CIS Basketball Championships in Halifax. We at McMaster were old hats in Halifax, having been there every year since 1993, never winning I might add. MAC met Bishops .in the Final in a game that still breaks my heart every time I think of it. Bishops, a small unassuming school in Lennoxville Quebec at the time won everyone's hearts with a tremendous run that included a 3 point win over MAC in the Finals, after McMaster built a big lead. Arash got to broadcast a championship win of his alma mater his first year out there. He was a nice fellow, intense about his work but the equipment he had was something that McGyver would have been proud of. Yet, the broadcast found its way to Lennox-Vegas somehow. He's another guy whose earned his rightful spot in the industry.
2. Andi Petrillo- She was Andria Petrillo when I worked with her on a variety of on-air productions. She was also the anchor of Rogers Sports York Region too. We knew that she was going to be a star due to her on-air poise and obvious on-air talent. A little known fact is that I replaced her at SkyWords Traffic doing the "coveted" 6am-12 shift on Sunday Mornings! Andi, to me, can cross over to any medium, be it news, lifestyle, entertainment, and sports. She excelled at CBC hosting soccer as well as her work during the Olympics/PanAm Games.
3. Andy McNamara- Andy was an enthusiastic Durham College student when he did his first Rogers TV gig with me calling the OCAA Men's and Women's Basketball All-Star Games. That was a production that could have went off the rails as someone's great idea was to have the players wear their own team shirts, which lead to people wearing the same number. That is a play by play man's nightmare. Andy is another guy who has paid his dues, doing a ton of volunteer work, lacrosse and hockey play by play , fill in talk show hosting on his way to being the radio voice of the TigerCats
4. Matt Cauz- I picked up a sleepy Matt Cauz to drive to a MAC /Western Football game that we were doing live on the radio on 93.3 CFMU way back in 1998! The Mac football team was horrible back then and Matt was lucky enough to be the writer, while I was the Media Relations guy at MAC as well as going a lot of radio work. Try promoting or writing about a team that had fashioned an 18 game losing streak! Matt has an encyclopedic knowledge of football, and went on to call games on CFMU with our mutual friend the late and great Dr. Don Dawson. From there Matt went to work at SUN TV on The Grill Room as a Producer/Fill in Host. He did me a solid by booking me on the show a couple of times. I wish I could say that I repaid Matt's solid in kind with a star performance, but it was far from my best work. Sorry Matt! Matt has gone onto TSN radio where he co hosts a show, and filled in for Mike Richards in the summer. Plus, if you want good wine recommendations, Matt is your man! Between his gigs at SUN TV and TSN Radio , he worked in the wine industry.
5. Marshall Ferguson- We talked about Marshall, but one of his first on air appearances was on a show that I created, hosted and produced called The Broadcast Booth. I had on Marshall and Ben Chapdealine and we spent a show debating the merits of the Canadian QB and its lack of CFL success. Great booking by me putting two tall handsome athletic individuals on with me. I looked like Quasimodo next to those two!
6. Rob Leth- Rob and I worked together on York Region Shooter CSL Soccer and Newmarket Hurricanes broadcasts when he was Rogers TV Sports Anchor York Region. Rob was the play by play guy and I was the guy who finished house league hockey in unspectacular fashion at the age of 15 and somehow became the colour guy. Rob had a good quirky sense of humour, a ton of talent and perfect TV hair. He's had a long career at Global, was the last host of Sportsline and is best known for a viral video that made its way to Jimmy Kimmel, when he gets obliterated by a snow tube during a live TV broadcast. Trust me, go to YouTube.. Better yet..here's the link here.
I promise more IceDogs and hockey content in the next blog, but stroll down memory lane was hard to resist, I can say that the team has just started their exhibition schedule and a number of palyers are at NHL camps right now, meaning the squad is very youthful. We have our first broadcast next Friday September 18th 7pm on TV Cogeco Niagara in Full HD! Join Ed Burkholder, Al Galloway and I.
Steve Clark aka The Sports RainMaker!