Finally get a chance to put pen to paper, so to speak. Sadly, I had many, many great ideas while I was on my run, and I've immediately forgotten them. Still there is a myriad of topics to cover.
THE TORONTO MAPLE LEAFS AS THEY STAND RIGHT NOW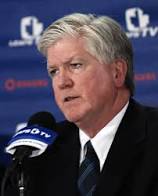 Some good work done by Brian Burke's lieutenants over the past few days in their attempts to push the Leafs into the playoffs for the first time since 2003-2004. While losing out on Brad Richards, the apple of every one's eye, the Leafs did a nice job by snagging Tim Connolly from Buffalo. The Leafs were never really in the running for Richards as Burke, the curmudgeonly one himself, said that the Buds would never front-load a contract the way the Rangers did and even questioned the legitimacy of the contract. Connolly is a smooth play maker who will attempt to coax a few more goals out of Phil Kessel. The team also shored up the back end by nabbing Cody Franson from Nashville via a trade and John Michael Liles from Colarado on draft night. Add in the re upping of Tyler Bozak and Clark MacArthur, and there is reason to be quietly optimistic in Leaf land.
BRIAN BURKE IN AFGHANISTAN

Personally, my initial reaction was not overly favourable to Burke for his decision to head to Afghanistan on the biggest Free Agent day of the year, but in the grand scheme of things, what is more important? Day one of a Free Agent frenzy that was decidedly underwhelming in quality or joining our heroes in Afghanistan? Dave Nonis and staff did an admirable job in the interim. Plus, with Burke marching in the Pride Parade the Leafs were able to finalize the Cody Franson trade. The fluffy haired GM clearly knows how to delegate and has full trust in a staff that is bursting at the seams in terms of years of talent evaluation.
FREE AGENT FRENZY ON TSN

James Duthie is fast becoming the most engaging, creative and credible sports host in the country. While TSN2 offered wall to wall coverage of Free Agent Frenzy, Duthie has that droll sense of humour that sort of winks to the viewers and urges us not to take things too serious. He's the perfect foil to the hyperactive Pierre McGuire, Darren Dreger and Bob MacKenzie. They get an A + on coverage in my opinion.
NBL CANADA

Despite losing Kingston as a potential franchise and leaving Oshawa sort of on an island in Eastern Ontario for the upcoming season, the NBL continues to do more right than wrong as they prepare for the launching. Andre Levingston smartly extended the welcome mat out to locked out NBA'ers. While nobody is expecting Kobe and Lebron to pull on Halifax Rainmen jerseys anytime soon, it would be a coup for the fledgling league if they were to attract Canadians Joel Anthony, Steve Nash, Jamal Magloire, Matt Bonner and even Tristan Thompson or Cory Joseph. Smart move!
CANADA SOCCER

Call it bad timing, but I was thrilled to unwrap the Canada soccer jersey for my birthday yesterday. Unfortunately this coincided with the teams quick and tidy elimination from the Women's World Cup with an embarrassing 1-0 loss to unheralded Nigeria. If you are keeping score at home the team mustered one goal, on a set piece and gave up seven. No excuses here. The team was #6, got the coach they wanted and flamed out with nary a whimper. Apparently these jersey's come in all sizes, but the most popular label is the under performing one.
MEDIA MUSINGS
Congrats go out to Jeff Marek on his new position with Rogers Sportsnet. Marek departs from Hockey Night in Canada's satellite radio show, as well as the Chevy I-Desk. Marek is a very versatile broadcaster, and can talk most sports, but his greatest impact will be in hockey and Sportsnet's ever expanding UFC/MMA coverage. Openings for hockey play by play potentially remain in Winnipeg, Montreal and there was a posting in Washington. The Fan 590 has also yet to name their replacement for Andrew Krystal's 1-4 time slot too.
OHL THOUGHTS
Rookie camps are starting and good luck go out to all current and former Ice Dogs who are trying to put to catch the attention of the main team, so they can break main camp. A special shout out goes to Former Ice Dog/current Owen Sound Attack D-Man Matt Petgrave who was undrafted, but earned an invite to Chicago's main camp. According to Twitter, he's rooming with Attack teammate and Hawk draft pick Andrew Shaw.
Please check me out on Twitter:
www.twitter.com/SteveClarkMedia
Also, visit my companion blog where you can see examples of my on-camera and play by play work
http://steveclarksportsbroadcaster.blogspot.com/