ROBERTO ALOMAR: HALL OF FAMER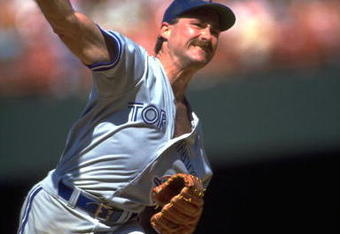 Last Sunday Roberto Alomar was a deserving inductee into the Hall of Fame. A .300 career average, 210 Home Runs, 474 Stolen Bases, 10 Gold Gloves and a dazzling array of highlight reel defensive gems are more than worthy Hall credentials. This past Sunday Alomar was properly recognized by the Blue Jays in a well put together pre-game ceremony that featured Blue Jays luminaries past and present. Though I did wonder if Kelly Gruber could have least got rid of the gum while he was being recognized by the sell-out Rogers Centre throng in attendance. As Alomar had gone into the Hall wearing a Blue Jays cap, a first for the franchise by the way, the Jays saw fit to retire Alomar's number 12. There is no doubt that Alomar was one of the cities elite athletes during a time when Toronto had its fair share of studs. Alomar was the spring, summer and fall answer to Doug Gilmour, two athletes who had Toronto in the palms of their hands during the early to mid 1990's. Few could deny Alomar's allure on and off the field and he was as popular with the female set who saw his boyish good looks and wide grin as tantalizing as his on-field magic that drew the admiration of the casual and hard-core fan. He had the biggest hit in Blue Jay history with his timely home run off of Dennis Eckersley in the 1992 ALCS, a shot right in the face of the arrogant A's and their taunting closer. Despite a powerful and star studded offense around him, undoubtedly Alomar was the centrepiece of the World Series winning Blue Jays. Yet in the long haul, his star was fleeting. He loafed his way out of town, protecting his .300 average in 1995, rather than playing and engaging in a well-publicized spitting incident with umpire John Hirschbeck. No doubt about Alomar's impact but his best years, ironically, were with the Cleveland Indians in 1999-2001 when he lead the league in runs in '99 with 138 and topped 100 RBI's twice, something he never did with the Blue Jays.
Call me nostalgic for the early heady days of the franchise, but for my money the first number retired should have been the #37 adorned by Dave Stieb. Stieb's tenure with the Blue Jays was from 1979-1992 and his excellence spanned the contending period of the early 80's to the first pennant won in 1985, and subsequent pennants in 1989 and 1991. Stieb, injured for much of 1991-1992, played only a bit part in the inaugural World Series win. Stieb's surly demeanour with teammates, umpires and media may have hindered him in the eyes of the public relations battle, but he remained a Blue Jay through and through and looked strangely out of place in a White Sox uniform when he moved on from the Blue Jays. Stieb would return to Toronto in 1998, a fitting closure for a great career.
Today was Robby Alomar's day, and it was a beautiful ceremony, but I'd much rather than Dave Stieb's #37 would never be worn again by a Blue Jay.