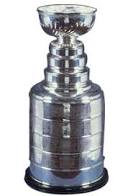 A friend of mine sent me a video about the Canucks Stanley Cup song that is on YouTube and has over 1 million hits so far. To say this song is cheesy, would be an understatement. It makes Justin Bieber look like U2. All in good fun, and the four guys in the Green Man suits are a nice touch. Rumour has it the green men in the video are Harold Snepsts, Tony Tanti, Petri Skriko and "King" Richard Brodeur :)
I do remember when that noted songwriter Glen Anderson penned a rallying themed song for the Leafs in support of their 1992-1993 called "The Leafs are the Best" This too wins cheesy song and video of the year, right down to the bad dancing by the Leafs and the acting cameo by the likes of Wendel Clark, Pat Burns and Mike Myers. It's all in good fun, though its no "Ok Blue Jays", a song that badly needs updating as it featured the words "We'll beat the A's so bad, gonna make Billy blue", in dedication to Billy Martin who managed the A's in the early 80's.
If you want some really bad and obscure hockey songs, google Don Cherry's "Lets Go" rap and "The Bomber" in tribute to Ken Baumgartner. I swear they both exist!
Canucks video is here:
Leafs video is here:
Enjoy!